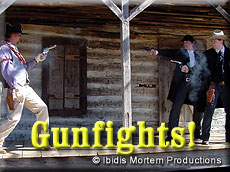 In the lawless days of the old west, outlaws roamed the countryside, robbing and killing with reckless abandon. Only the toughest lawmen could stand and protect the innocent from harm in the
Bandit Attack Stunt Show!!
These shows bring all of the elements of a good performance into the loudest, largest, and most visual show ever seen at an event or festival. They combine all of the aspects of a stunt show, a pyrotechnics show, a sword/gun fighting show, and a comedy and incorporate them into one entertainment banquet that has to be seen to be experienced!